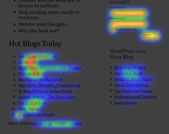 CrazyEgg is a new service which shows a heat map of your web sites, including what people are clicking (banners, links etc.), and general user activity. It works by installing a script which then will track users and send the info to your CrazyEgg account.
You can choose between getting your web site tested for one day, one week, or a whole month, and then a report will be generated showing the results. The price starts at $19 per month (and can be as much as $99 per month), but a free version is available which allows you to track the first 5000 visitors in a month.
It's a good way to get an overview about how users are using your web site, what they are interested in, so that it can be adjusted accordingly.