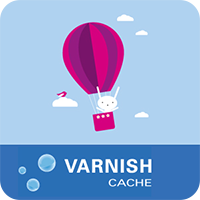 You can now boost your website – regardless of whether you have developed it yourself or have used a CMS such as WordPress, Joomla, or Drupal – with our Varnish accelerator-cache, which is incredibly easy to use. This will drastically increase the speed with which your pages are shown, provided that the pages caches.
If your domain points to Gigahost's name servers then we control the DNS for the domain, you simply log on to the control centre and choose the domain you wish to use Varnish with. Afterwards, you choose the tab "DNS" and under "DNS Templates" at the bottom of the page you choose "Varnish Proxy Server" and press "Add Template". Are you in doubt whether you are using our name servers or not, then simply ask our Technical Support.
As a rule of thumb, allow the name servers about an hour before Varnish really begins working on the domain.
If you control DNS yourself: It is also possible to use our Varnish accelerator if you control the DNS yourself. If that is the case, you have to make a slightly special DNS template. Therefore, write us at support@gigahost.uk to get information about the details.